DOMESTIC VIOLENCE AWARENESS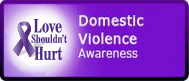 Domestic violence is physical, mental, sexual or emotional abuse in an intimate relationship.
It occurs when one person uses abusive tactics to gain power and control over a partner or former partner.
Domestic violence hits homes in every community. It has a devastating effect on victims, children, families and communities. The Purple Ribbon is the National symbol of identification for Domestic Violence Awareness.
LIFEJACKETS PRODUCTIONS produces a wide range of PURPLE RIBBON materials for use in your Domestic Violence Awareness & Prevention programs. We have specifically designed our products to provide high quality, inexpensive educational and promotional tools that appeal to contemporary audiences. All of our designs are available with a variety of slogans and themes from a simple purple ribbon to more elaborate designs and slogans.
We can also customize our products with your organization's logo or message.
*Payments We Accept: When placing an order online or by phone, you may use the following payment methods:MasterCard, Visa, debit cards and PayPal.
We also accept Purchase Orders authorized by any state or government agency.
 Call us at 1-800-366-2150 or email us info@lifejackets.com, with your questions or quote request.
Showing 1–40 of 85 results